A DUNDEE teenager will deliver the "Time for Reflection" segment at the Scottish Parliament this summer after raising awareness of young sudden cardiac death (YSCD).
Abby Lang, 17, has been raising the profile of Cardiac Risk in the Young (CRY), a national charity which aims to prevent young sudden cardiac death through awareness, screening, research and supporting affected families. She will address Members of the Scottish Parliament (MSPs) on the subject in June.
The Harris Academy School Captain has enlisted  a number of Members of Parliament to back CRY's MP pledge to support a National Strategy for the Prevention of Young Sudden Cardiac Death to help save young lives in the UK. Among those are Labour Leader, Jeremy Corbyn and SNP Westminster Leader, Ian Blackford.
I spoke with Abby to gain insight into how she heard about the charity, how her campaign started, where she hopes to be in the future and also what advice she would give to others who want to raise awareness of charities and good causes.
How it all started
Speaking about how she heard about CRY, Abby said:
"In June last year, my school – Harris Academy – was the venue for 100 heart screenings paid for by the Peter McAvoy Memorial Fund set up in memory of Peter McAvory, a footballer from Dundee who died of an undiagnosed heart condition whilst on a soccer scholarship in America.
"The #4Pete Campaign, founded by his dad, Peter McAvoy (Snr), raises money for ECG testing of young people between the ages of 14 and 35. The campaign also funded a further 100 screenings in Perth conducted by national charity, Cardiac Risk in the Young.
"As a Senior Black Belt in karate, I signed up for a test as I wanted reassurance I can physically exert myself during cardiovascular activity without risk of exacerbating a hidden heart condition and fortunately, my ECG – which examines the electrical activity within your heart – was normal.
"Around the time of the screenings, I was considering ideas for my Interdisciplinary Project which is part of my Scottish Baccalaureate in Science – an SQA qualification undertaken in 6th Year.  An article appeared in the Evening Telegraph of me receiving my test result and Mr McAvoy got in touch asking if I would help raise awareness of young sudden cardiac death.
"I incorporated raising awareness of YSCD into my project as a way of supporting Mr McAvoy's efforts, with the main objective of researching the feasibility of a Scottish strategy to prevent YSCD.  In July last year, I  launched an awareness campaign attended by Dundee West MP Chris Law, Dundee City West MSP, Joe FitzPatrick and lead singer of The View, Kyle Falconer. I also met with Scottish Health Minister, Shona Robison, to discuss YSCD.  It was a challenge to organise, however I would like to thank journalists who arranged television, newspaper and radio coverage of the event. Media support is vital to spread the message to a mass audience."
Organising events
Last year Abby organised an event with the help of Harris Academy to raise money for the #4Pete Campaign. A charity park run was held at Harris Academy's Eillot Road playing fields. Harris Academy staff and pupils, as well as Dundee FC player Cammy Kerr and Dundee United FC player Scott Fraser, took part.
I asked Abby how the event was organised and how it evolved from a simple idea to a successful event.
She said: "Initially, I had hoped to raise awareness of YSCD at Dundee's music festival, Carnival 56, last August. However, after a series of emails, I was advised the festival had adopted a no-charity involvement policy in its first year. I reconsidered my approach and came up with the park run to fund-raise for the #4Pete Campaign.
"The leader of Dundee City Council, John Alexander, offered his support and I enlisted the invaluable help of my school's Interact Committee which raises funds for good causes. I got in touch with Dundee and Dundee United Football Clubs and they agreed to send first-team players, Cammy Kerr and Scott Fraser. The backing of the football clubs was important to convey the risk of YSCD in athletes. Motherwell captain, Phil O'Donnell, was 35-years-old when he died of heart failure during a match against Dundee United. His family actively fund-raise for CRY.
"Bakers, Goodfellow and Steven, made bespoke #4Pete biscuits and Lochee shops donated refreshments. Firefighters from Blackness Road Fire Station set off the run with engine sirens. I invited Mr McAvoy to attend and we were interviewed for television.  It was a real community effort with a great turnout from Ancrum Road Primary School."
MPs pledge support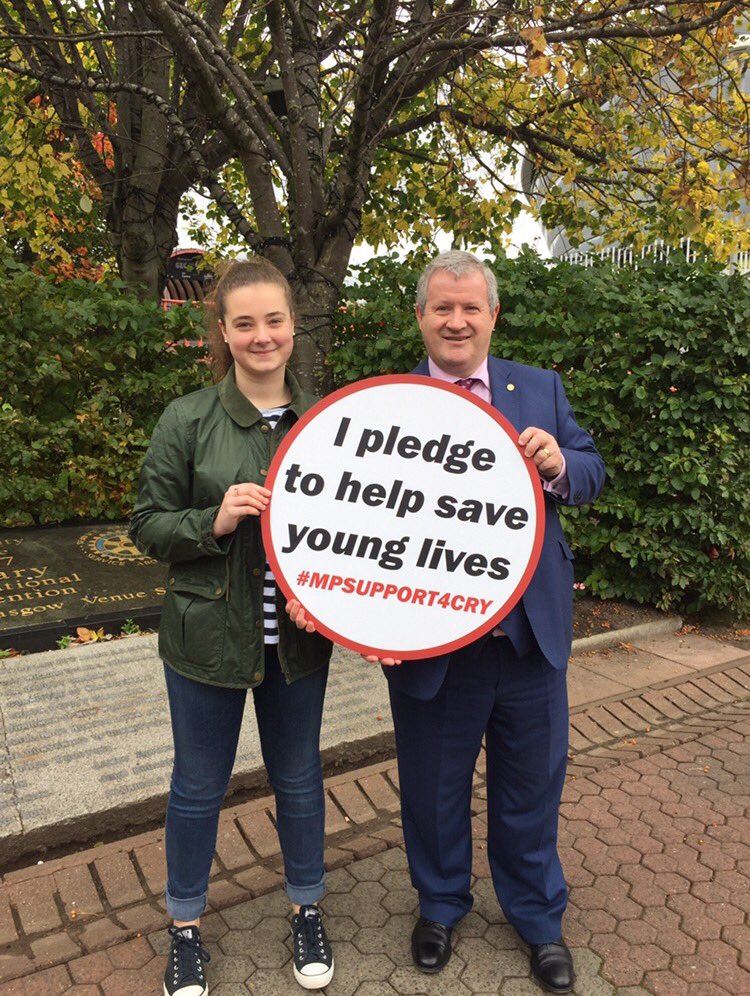 Along the way, Abby has contacted MPs to back the CRY pledge to establish a National Strategy for the Prevention of Young Sudden Cardiac Death to help save young lives.
"I emailed MPs inviting them to sign the CRY pledge. I have met ten MPs in various places from Auchterarder to the SNP Conference in Glasgow where I met the Parliamentary Leader for the SNP at Westminster, Ian Blackford. Dundee City West MP, Chris Law, was the first to come on board followed a few weeks later with a dual signing by Dundee East MP, Stewart Hosie and Perth and North Perthshire MP, Pete Wishart. In March, at the Scottish Labour Party Conference in Dundee, I met UK Labour Leader, Jeremy Corbyn, who signed the pledge."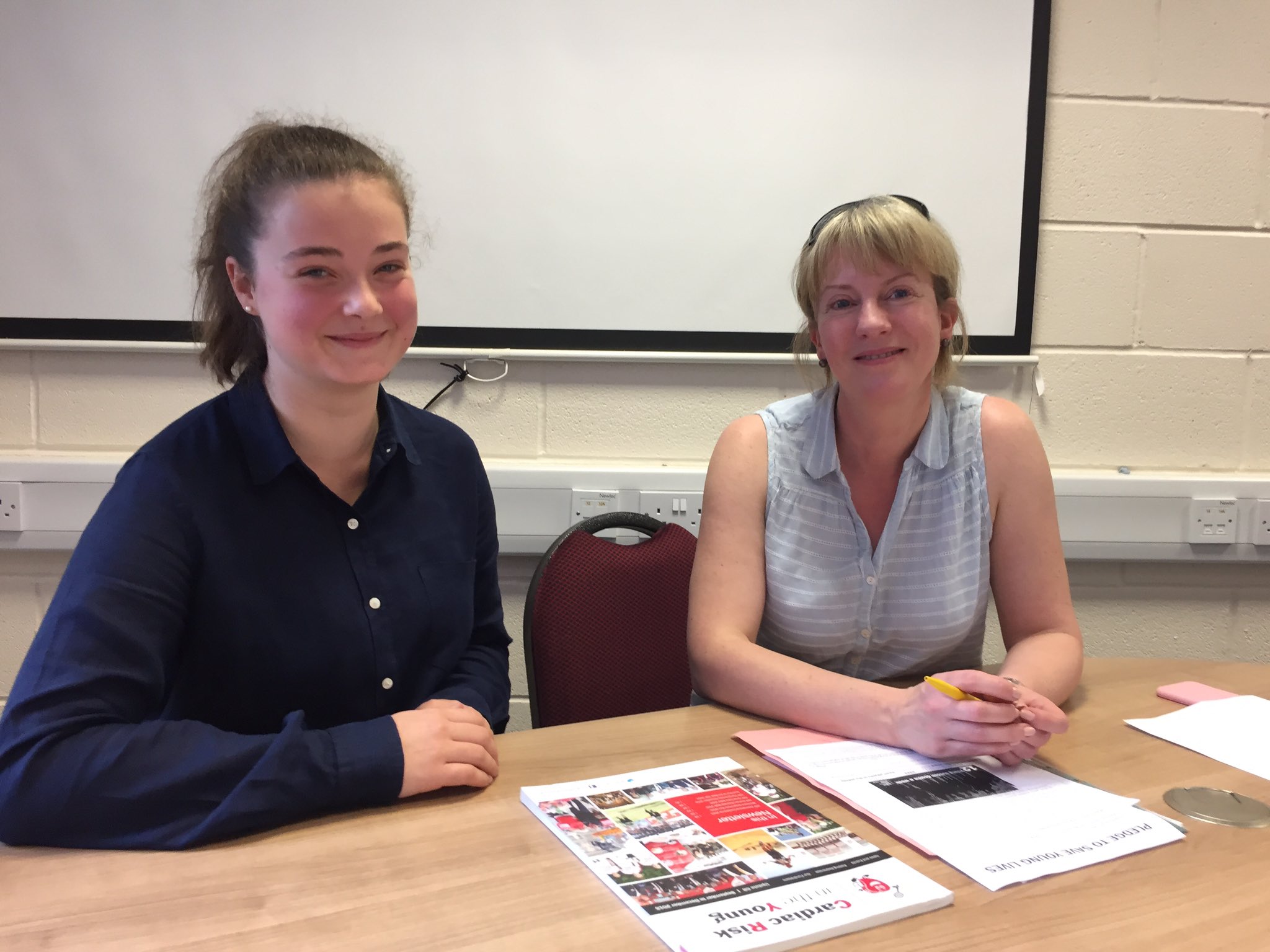 Young Scot Awards Delivery Panel
Abby is a member of this year's Sunday Mail Young Scot Awards Delivery Panel which is organising the ceremony to be held on St. Andrew's Day at the SEC in Glasgow. I was curious as to how Abby was chosen for this amazing role.
"I filled out an application form for the Delivery Panel and I was notified in January that I had been successful. It is a wonderful opportunity to organise the awards ceremony which celebrates the achievements, talents and ambitions of young Scots.
"I have written a blog of our first panel meeting in Edinburgh which is on the awards website. As this is the Year of Young People, the event will be televised and we hope to attract a star-studded line-up of entertainers.
"We have written a letter to our proposed host for the evening and have identified other possible performers and VIPs. At our March meeting, held at the event venue in Glasgow, we discussed the look and feel of the night including themes and decoration.
"I urge Dundonians to vote for worthy young people in our city, of which there are many, so they have a chance to be recognised on a national stage for their achievements."
Speaking at the Scottish Parliament
This summer Abby has been given an exciting opportunity to deliver the "Time for Reflection" speech at the Scottish Parliament. Notably, the Dalai Lama has spoken at Time for Reflection and Abby will follow in his footsteps.
I asked Abby what her reaction was when she found out she was to address parliament.
"I was humbled to be jointly nominated by Dundee City West, MSP Joe FitzPatrick, and Deputy First Minister, John Swinney, to deliver the Time for Reflection speech at the Scottish Parliament in June. It is a great honour as other contributors include the Dalai Lama and Nelson Mandela's granddaughter, Nandi Mandela. It is mainly adults who deliver the speech, so I am delighted the government will let my voice be heard on this platform in the Year of Young People."
Hopes for the future
Abby hopes to continue campaigning for CRY and work in the medical profession. She commented:
"I interviewed CRY Chief Executive Officer (CEO), Dr Steven Cox, in December and he suggested working with me to raise the profile of the charity in Scotland. To encourage more MPs to sign the CRY pledge to support a National Strategy for the Prevention of Young Sudden Cardiac Death, I have posted 103 pledges to MPs throughout the UK. I was able to do so thanks to a grant from Dundee Youth Fund.
"I plan to study Medicine or Biomedicine at the University of Dundee."
Advice for other young people
I like to ask the young people I interview what advice they would give to others. I asked Abby what she thinks is important when campaigning for a charity or good cause.
"Be bold and educated. It is vital to learn all aspects of a subject you plan to raise awareness on. I recommend hands-on experience whether it is interviewing a person who benefits from a charity or those who work tirelessly to promote a cause.
Dundee's Young People is a series of features showcasing and celebrating the talents of Dundee's young people during the Year of Young People. A project designed by Dundee Culture to let audiences know about the impact young people have in Dundee.